This is a Sponsored post written by me on behalf of Scotts®. All opinions are 100% mine.
I can smell it in the air, spring has arrived and brought the sunshine, budding maple trees, chirping robins & cardinals and dreams of our BIGGEST and BEST garden yet!
Jake is a notorious gardener... how often do you see those two words together?  This is the 4th place we've lived together and every time, Jake breaks out of hibernation with gusto as he (rips up) turns our yard (and often kind neighbors' yards) into a garden much grander than the plan we agreed on (some past garden posts here.and here)
This year, a lifetime of dreams are coming true for my farmer.  In true busy beaver fashion (have I ever told you about the time he ran 70 miles in 19 hours and didn't get tired till after mile 50?), he's logging 16 hour days putting the finishing touches on HIS greenhouse!  I'll have more posts in the future telling you about this project, but for now, here's a peek at his masterpiece (I'm not sure which of us is more surprised with how great it's coming together.  This is his first building project... and since it's ATTACHED to our house, I had many many concerns).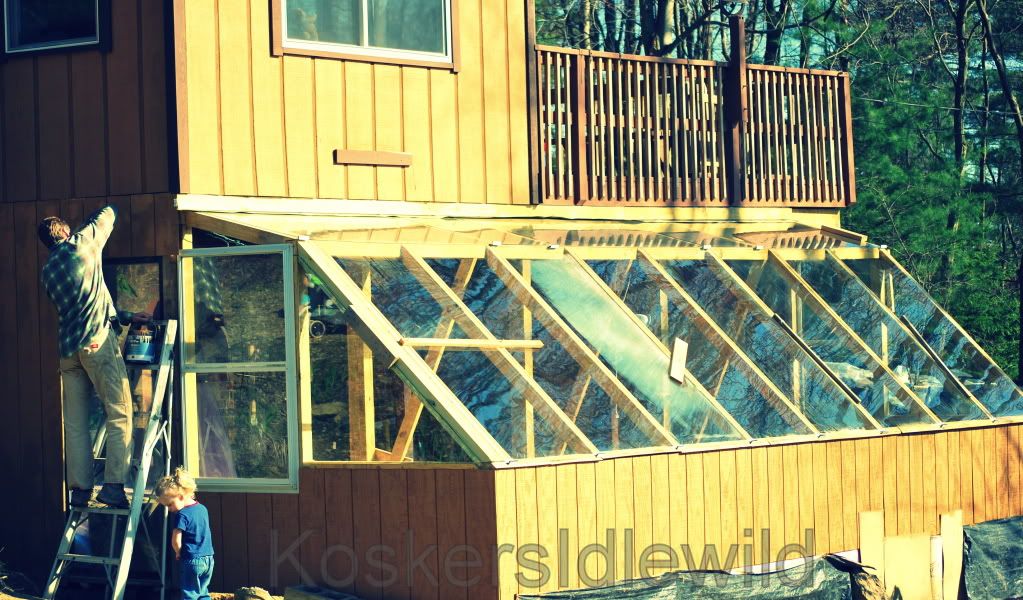 With this greenhouse and a few newly cleared acres, farmer Jake has big plans for this summer.  As for me, my gardening plans are on a much smaller scale!  All I want is a porch bursting with red geraniums... like my inspiration:  my Great Aunt Lizzy's farmhouse, built in the 1600s!  Picture the quintessential Swiss farmhouse...ahhh....lovely!
Last year, I used regular potting soil and put a DIAPER in each pot according to a silly tip I found on the internet.  My geraniums were OK, but they never filled out.  I was quite disenchanted with the whole experience... which is my excuse for why I left them outside in a frost instead of saving them for this year.
This year, wooo doggie, I've found the perfect thing to take my geraniums from MEH to WOW!  My Aunt Lizzy is gonna be sooo proud!  INTRODUCING Miracle Gro Expand 'n Gro!  Expand 'n Gro™  works in the ground and in pots, so maybe I'll even share with farmer Jake... maybe... I kinda like the idea of my flower boxes getting all the attention for once :)  Expand 'n Gro™ will give me up to 3x the amount of blooms versus soil, it feeds the plants for 6 months (we all know I'm too idle to ever remember to feed my plants), improves the soil for next year and it's natural fibers hold up to 50% of the water (no diapers in my planters this year folks... don't judge ;)
*one last thing about those natural fibers that I LOVE... they take the parts of the coconut husks that used to be discarded and use the coir (new word for the day!) to make our gardens look like we know what we're doing!
Sounds pretty awesome, eh?  Miracle-Gro is offering a free sample to any of my readers who leave a comment on this post!  So, we all get a nice head start on our Spring planting!  GREEN THUMB...HERE WE COME!
**If Expand 'n Gro™ isn't available in your local garden store yet, you can purchase it on Amazon!